Nova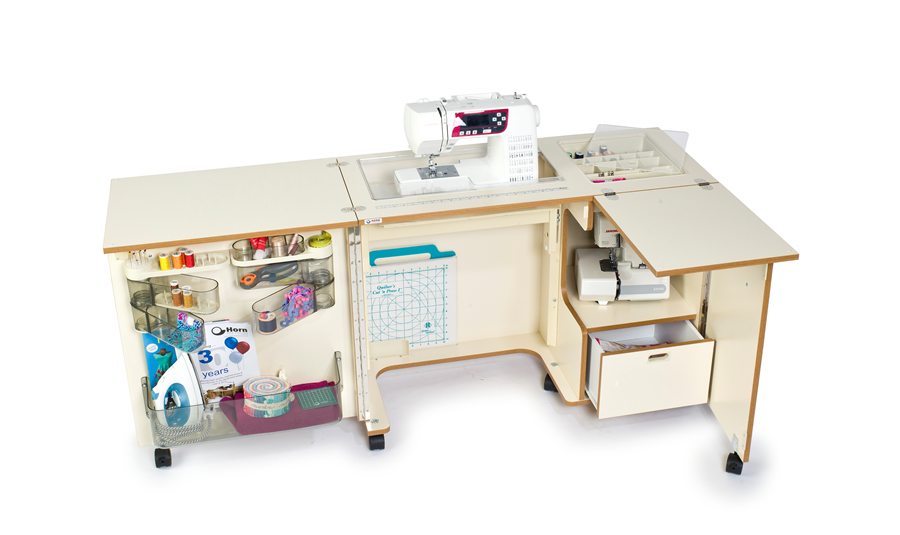 Features
Horn Nova sewing cabinet
Work area extensions and organiser door swing open smoothly and easily lock into place.
Extra stable construction; easy-rolling castors are attached to a specially designed reinforced frame.
3 step soft-touch air lift system means a gentle push moves your machine from storage to flatbed to freearm.
Spacious see-through bins make finding thread and notions easy.
An extra deep drawer, bonus shelf, and a recessed table-top notions organiser add even more storage.
Heavy duty, no-snag, flush mount hinges prevent fabric catching.
Handy under-cabinet storage for machine insert
Entire cabinet glides closed and locks for child safety when not in use.
Delivered fully assembled as are all our cabinets.
Cabinet is beautifully finished front to back, inside and out.
The Nova 1081 is available in Teak, Beech, Light Oak, Medium Oak and White.
The suggested selling price is £899
Dimensions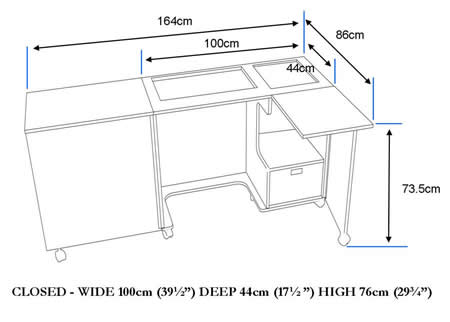 Colours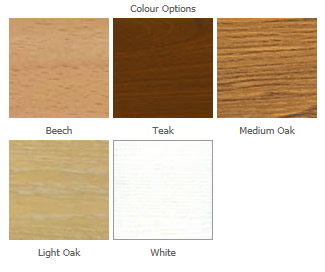 Leaflets
NOVA Click here to view or print information about this cabinet


Click here to submit your review.
---
---
Nova
SKU
UPC
Model
Nova
Apr 29, 2017
by
Anne Lawler
I have had my cabinet for a few months now. For the money I would have expected better quality, although overall the cabinet serves its purpose well. The long hinge on one door is crooked which means the main front door is lower at one end than the other, which drives me mad looking at it front on. One screw on the flip top table had a very sharp metal burr which I only found about when I snaggged my cloth on it! There are a couple of other minor niggles I have, but I am a bit of a perfectionist. One other issue I have found is that when sewing 'free arm' the machine shifts about a lot on the smooth surface and there is nothing to hold the machine in place. I have solved this by using a rubber mat under the machine. Overall I'm still glad I purchased this cabinet as it keeps everything tidy and in order. Concept very good, quality could be better.

Response: Thank you for the constructive feedback Anne, I\'ll pass your comments on. We do check each cabinet as it leaves us and once again on delivery as we set it up, so trying to avoid at least some of the problems you describe. Also we do have corner fixings for the sewing machine to prevent it from moving on the platform, if you\'d like some of these please contact us on 01793 834304 and we well dispatch some ASAP to you.
---
A Great Cabinet
Oct 08, 2016
by
Irene Lacy
I can echo Sue Berry's sentiments. I am in process of selling my 10 year old Nova for just one reason ... the Janome 14000 doesn't fit on the lifting table.
So I have bought a new (replacement) Horn cabinet instead.

---
The Best You Can Buy
Mar 06, 2016
by
Sue Berry
I have had my Nova for about 11 years, it is used almost every day, it is robust and well made. It makes sewing a pleasure - I am about to change it, only because I need a new cabinet for a larger machine - I will be buying another Horn cabinet - they are well,worth the money - I highly recommend them,

Response: Dear Sue, its one thing for us to praise our furniture but quite another for the praise to come from a long term user of our products. Thank you so much for taking the time to share this with us.
---
Nova
Had the cabinet since 2000. No problems and its been in almost constant use. Even survived a house move. Quality is fantastic. Well worth the money.

Response: Thanks so much for taking the time to leave valuable feedback like this. Long term build quality & customer satisfaction are a key Horn objectives.
---
Nova machine table
Jun 02, 2015
by
Carol Lacey
Wow had mine delivered on 2nd June 2015 it is beautiful can't wait to start using it thanks Horn

---
Just arrived and am thrilled.
Jan 28, 2015
by
Rachel Day
My Horn Nova cabinet has just arrived and it is fantastic. The customer service from this company is second to none - everything was set up by an extremely helpful delivery drive and I have no hesitation in recommending these products to anyone.

---
Quality is remembered long after the price is forgotten
I bought my Nova as a 'back to work' reward more than 20 years ago and I still enjoy it. It seemed a lot of money at the time but I've had two sewing machines since then. Sewing on the dining table is now a hazy memory, thank goodness.

---
NOVA
Jul 10, 2013
by
Mrs Pamela R
So nice to have a place to keep the things I need for sewing, in 1 place instead of various areas to find them. Will save time and energy to get on with sewing- Many thanks.

---
July 2002
My husband bought me this product for my birthday in 2002 and 10 years on I am still totally thrilled every time I open it to use it. It looks as good today as it did on delivery and houses my machine and overlocker with no trouble at all. Storage is excellent (although there is NEVER enough storage in any product!!). I recommend this product to anyone who admires my own unit. You get what you pay for and this product has paid for itself over and over.

Response: We\'d really like to thank you for taking the time and trouble of giving us a long term view/ feedback of one of our products..... for any prospective buyer thinking to purchase you can\'t beat that!
---
Nova
Jun 26, 2012
by
Anneli Bodin
I got my "Nova" yesterday to Stockholm, Sweden. What a beautiful piece of furniture, it is well designed and good quality. I will enjoy working at the table.
Good and friendly service by mail from the company. Thanks to Angela Golding!

---