The New Maxi Eclipse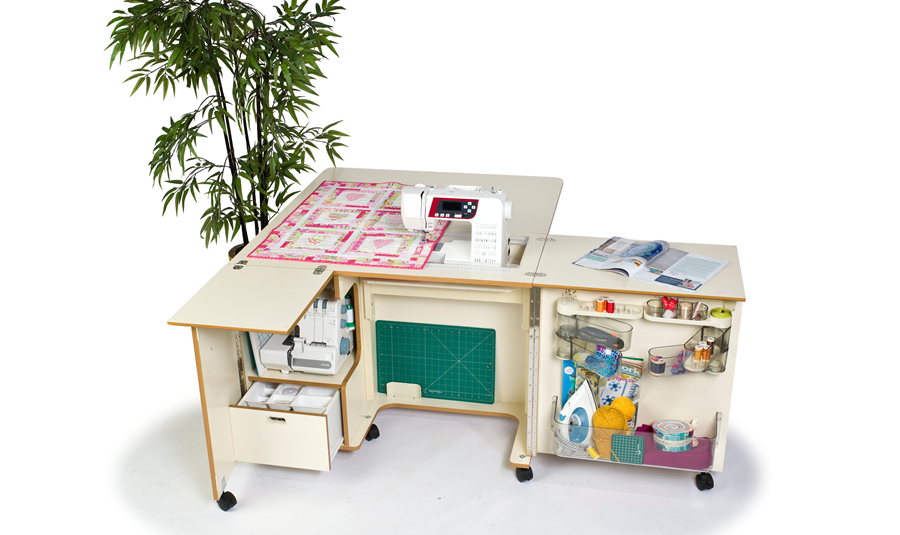 Features
Eclipse Features Include
Centre of the needle sitting position allows you to be directly in front of the needle when sewing.
Storage bins are recessed to allow fabric to drape down without catching or disturbing the bin contents.
Extra stable construction; easy rolling castors are attached to a specially designed reinforced frame.
The Horn 3 step soft-touch air-lift system means a gentle push moves your machine from storage to flatbed to free-arm positions.
Spacious, see through bins make finding threads and accessories easy.
Huge work area at the back of the machine. Lifts up easily when needed and down when not. Doesn't have to be open all the time.
Entire cabinet glides closed, and locks for child safety when not in use.
The cabinet is beautifully finished front to back, inside and out.
Shown here in Light Oak colour this good looking cabinet with its soft formed edges closes down to just 100 cm wide X 46 cm deep X 76 cm high. Available in a choice of Teak, Beech, Light Oak, Medium Oak  & White colours
the suggested selling price of the Eclipse 2022 is £999
Dimensions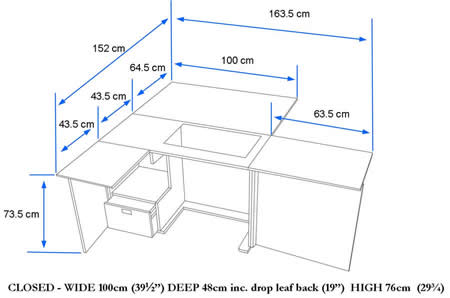 Images

Colours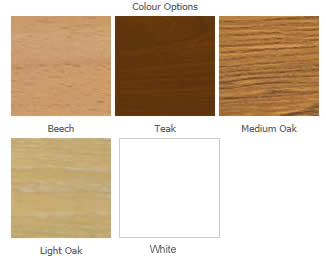 Leaflets
Eclipse Click here to view or print information about this cabinet


Click here to submit your review.
---
---
Maxi Eclipse
SKU
UPC
Model
Eclipse
Aug 13, 2016
by
Mrs Wragg
Superb quality product. Exceptional customer service. So delighted with this company, that this is my second cabinet from them. Bought through my local Horn agent in Chester,I can sincerely recommend both companies.

---
Eclipse in white
Ordered my Eclipse through the Bridlington sewing centre - brilliant - speedy, efficient and helpful. Had to wait a while because I wanted white, but it arrived yesterday. Really impressed. Excellent service from the driver who set my machine up and showed me how things work. A very high quality product - well worth the wait and the investment. I have a very heavy machine and limited space so in order to sew and craft it's essential to access the machine quickly and easily and pack all the bits and bobs away just as swiftly otherwise I might not make anything! Really really pleased with my investment and the service. Thank you!

Response: Thank you for taking the time to give us this great review!
---
Eclipse
within 1 month of ordering I took delivery of my horn cabinet. Jeff the delivery man was extremely helpful, once he rolled the unit (fully boxed) up the stairs he assembled it and set up the airlift for my Silver Viscount 20HD machine. The airlift is easy to use, with all my bits and bobs now stored in the unit everything is together and at hand, the unit is beautifully made, so pleased I picked the Eclipse as it folds away into a neat unit with doors, this is a treat for myself and I'm looking forward to using it. Just one minor point, I can't find where on the website I can do the warranty registration.

---
Eclipse
Apr 15, 2014
by
Sue Chatfield
Just got my Eclipse and an absolutely thrilled with it, it was delivered earlier than expected which was a great bonus and Jeff the delivery man came when he said he would, he was pleasant and really efficient. Great job Jeff. Can\'t wait to start sewing!

---
Eclipse
Really helpful and knowledgeable service. Lovely addition to my sewing world

---
Eclipse in Light Oak
Delighted with it- will recommend to other quilters.
Hugely useful to any serious sewer would have loved an even larger unit but not enough room. Consider designing a tall fabric storage unit to utilise vertical space in a room.

---
Eclipse in Beech
Apr 10, 2013
by
Christine A
The delivery man was very good, quick and tidy.

---
Eclipse maxi
Brilliant cabinet the maxi version of this holds the innovis I with ease,well put together and so neat when closed well worth every penny

Response: Thanks Sandra we really appreciate your valuable feedback. For those of you out there that may not of heard of the Maxi Eclipse, it is a new unit that is very similar in overall design to the current Eclipse but with some important differences the main one being that it is fitted with a Maxi lifter which is ideal for all the extra large sewing machines coming onto the market. For more information please contact us on; 01793 834304 or info@hornfurniture.co.uk
---
ECLIPSE
I Love it! - the way it looks, the way it folds away so neatley and can look inconspicuous but also open up into a beautiful creative inspirational space.

---
Eclipse
This product is fantastic! I am a self-employed costumer and it will allow me to use my sewing room as a guest room-a must in cramped British houses. I can use the back extension far a mini ironing board, or the overlocker, or an embroidery frame, everything is to hand, it is so versatile.

---